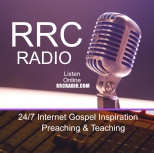 Welcome to the official website of Restoration Revival
Church of God In Christ. Thank you for visiting us online.
Please feel free to use our website to stay connected for the latest information and events taking place here at RRC.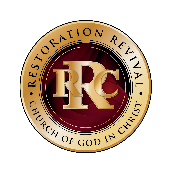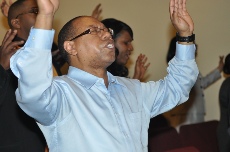 Holy Trinity had its beginning in July, 1971, in a community called " Jungle Foot". Bishop J. D. Husband told Elder Benton to go to East Point and start a Mission. The Bishop instructed Elder Benton to have a prayer meeting on Wednesday night.
Being in a strange city, elder Benton asked God to give him favor with people, a young couple opened their doors for the first meeting. They passed out tracts to announce the prayer meeting. God filled the house in these services. Other people opened their doors to us. We stayed in that community for two months.
In September, they were blessed to use the Washington Circle Community Center; this was a five-room house. They held Sunday School with thirteen children, on September 12, 1971. In this community, the lord gave one volunteer worker. She worked faithfully with the Sunday School. Services were held on Sunday night and Wednesday for three years. During this period of time the Lord gave us eight members and children.
In December, 1974, the church moved to it present location 1445 Fulton Avenue where the Primitive Baptist Church was located. In 1976, the church was renovated and an addition was added to the structure. With Superintendent Benton's unfailing dedication, the church grew.
Superintendent Benton's work was recognized when he was appointed by the late Bishop J. D. Husband as Superintendent to the East Point District, new to Central Georgia Jurisdiction, during the 1987 Holy Convocation. He was later appointed Administrative Assistant by the late Presiding Bishop C. D. Owens.
On March 4, 1997, The Lord called Superintendent Benton home to rest.
On May 20, 1997 the Presiding Bishop of the Church of God In Christ, the late Bishop C. D. Owens appointed Elder Dennis L. Martin, Sr., As pastor of Holy Trinity Church of God In Christ. The first Sunday pastor preached was May 25, 1997 with 8 active member his first message was "It's Time To Go Forward". On June 29, 1997 Elder Dennis Martin was official installed as pastor of Holy Trinity Church of God In Christ. In January 2014 the church was renamed Restoration Revival Church of God In Christ.